Economy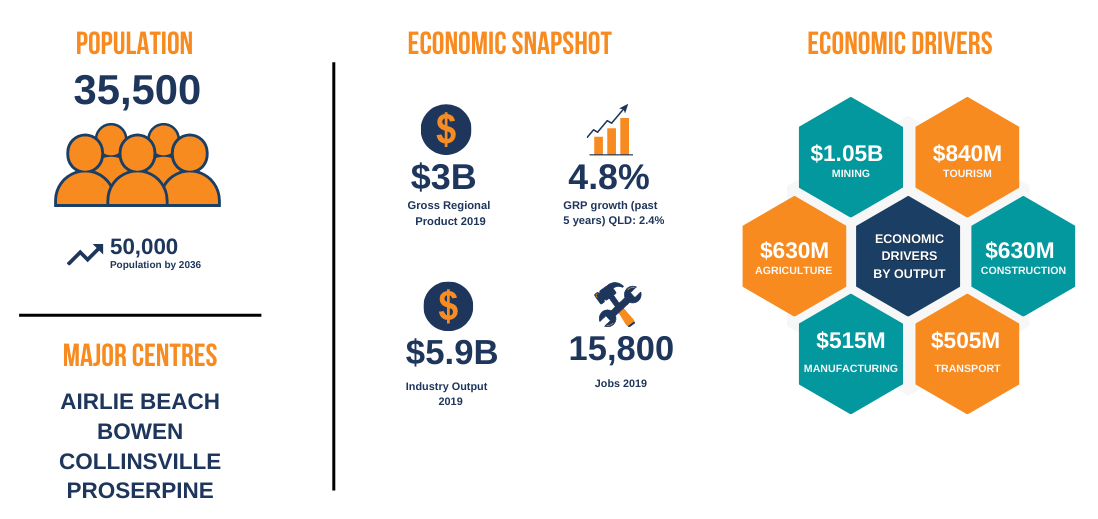 Boasting a strong and diverse economy driven by the $1.05B mining, $840M tourism and $630M agricultural industries, the Whitsunday Region has the potential to become an economic powerhouse of North Queensland.
Due to the strength of the local economy, the region's population is expected to exceed the State's annual growth rate, resulting in a resident population of 50,000 by 2036 with just under 5 million visitor nights each year.
The Whitsunday economy is well connected to major trading centres with the Bruce Highway the major transport corridor running from Mackay in the South to Townsville in the North. The region is also home to 2 major airports with weekly flights to Brisbane, Sydney and Melbourne.
Several Priority Projects are currently progressing or are in planning, including: 

Whitsunday Trade Coast and Airport Precinct; 
Whitsunday Marine Centre of Excellence
Shute Harbour Redevelopment; 
Lake Proserpine Barramundi Fishing and Tourism Development; 
Airlie Beach Luxury Hotel and Conference Precinct; 
Regional Water security Infrastructure Projects; and 
Mine, Rail and Solar Projects in and around Collinsville. 
For targeted statistical information about our region, using the latest available data, please visit our Economy ID economic profile.
For further information, contact a member of our Economic Development Team at info@whitsundayrc.qld.gov.au, or on 1300 972 753.