Whitsunday Region
The Whitsunday Region is in the heart of tropical north Queensland, about 1,100km north of Brisbane and 700km south of Cairns. The region is home to the major townships of Bowen to the north, Collinsville to the west, Airlie Beach to the south and Proserpine just in land.
The region is home to one of the world's seven natural wonders, the Great Barrier Reef and the magnificent 74 Whitsunday Islands including Hamilton Island, Daydream Island and Hayman Island. However, the Whitsunday Region is so much more than just a coral coast wonder, boasting substantial national parkland, ancient rainforests and exotic wildlife, as well as a diverse landscape from lush cane fields to wide, open valleys, mountainous ranges and fertile agricultural pastures.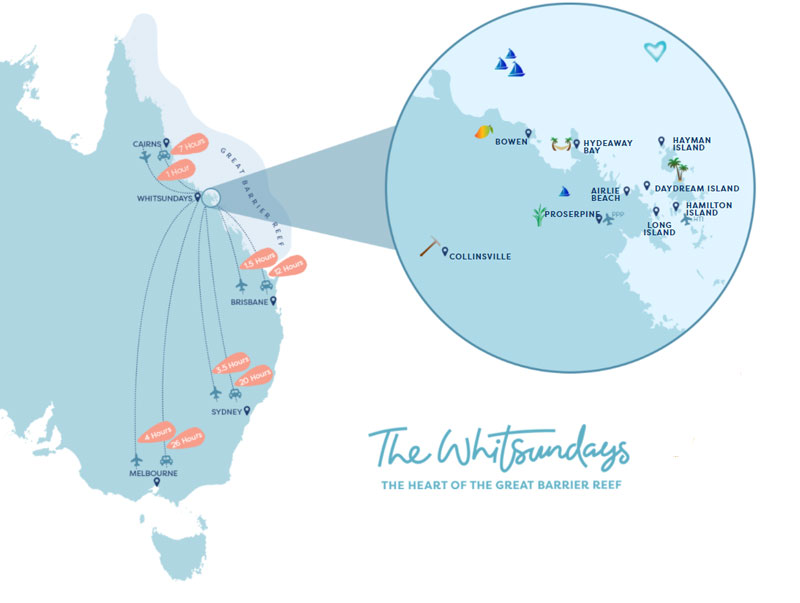 Airlie Beach
Airlie Beach is a colourful, cosmopolitan and inviting holiday town. It has developed into a busy retail and major tourism and hospitality hub and provides a gateway to the Whitsunday Islands and Great Barrier Reef. The town is expanding due to its lifestyle attributes and business opportunities, with new industrial hubs popping up to service economic growth and nearby resource sector developments.
Bowen
Bowen surprises visitors with its industrial size, infrastructure and quality lifestyle features including eight Tidy Town Award-winning beautiful beaches, parkland and social infrastructure. The town is in the international spotlight for its resource sector opportunities but is also recognised for strong agriculture, tourism, and pre-existing resource industries.
Collinsville
Collinsville, situated in the region's west, is a mining and grazing town in the coal-rich upper Bowen Basin surrounded by Australian countryside. The town is passionate about its heritage and community and provides residents with lucrative careers and opportunities through its successful long running mines as well as the benefits of living in a supportive local community.
Proserpine
Proserpine offers the opportunity to be part of a strong community, busy with activity from the huge agricultural sector that surrounds it. Built on its 19th century foundations of the sugar and cattle industries the town today has a lively retail industry with the local sugar mill at its heart and is surrounded by green agricultural land. Proserpine houses critical infrastructure and government services including a rail station, airport, high school, hospital, entertainment centre and other vital community services.
Airlie Beach
Foreshore
Coral Sea Marina
Shute Harbour
Proserpine
East
South West
Bowen
Foreshore