Budget 2020-21
A Message from the Mayor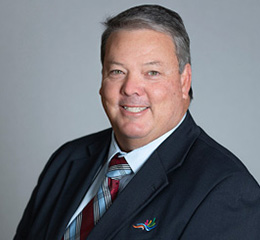 Today I present my fifth budget as Mayor and first budget of the new 2020-24 Council. The focus of this budget is delivering essential services to our residents and ensuring our region continues its recovery from the COVID19 pandemic.
In my time as Mayor I have had the privilege of overseeing our region's recovery post Tropical Cyclone Debbie in 2017 and I am ready for this next challenge of leading our community through the economic recovery, the social recovery and just as importantly, the physical and mental health and well-being of our residents.
My Councillors have worked tirelessly to deliver a budget focused on maintaining essential services. It is also built on our core focus of delivering strong financial management, local jobs and the liveability and economic growth of our region.
We realise the crucial role Council needs to play in leading our community forward to support jobs and get people back on their feet. Council and our Whitsunday community have banded together through cyclones and monsoonal rain events and have done so again during the COVID-19 pandemic to keep our region safe and halt the spread of the virus.
Council has been focused on driving a robust budget deliberation process to ensure your rates deliver value.
For the fifth consecutive year there will be no increase in the total general residential rates across the region. With prudent financial management Council has also been able to achieve 0% general rate increase for most categories.
This means that, despite five years of rising fuel, insurance and power costs and loss of income due to COVID-19, Council are collecting virtually the same general rates from residential ratepayers as in 2016.
Importantly, Council's $114 million operating budget ensures we maintain sound financial management through a minor surplus of just over $109,000.
This Budget will see the finalisation of key recovery projects from 2017 Tropical Cyclone Debbie, including the opening of the new Proserpine Administration Building.
However, the three most exciting major projects for 2020/21 will be commencing with construction of Bowen's Flagstaff Hill and the Proserpine Entertainment Centre and completion of the new Shute Harbour Marine Terminal.
These major projects will create jobs for locals and help forge a bright future for Our Whitsunday region.
Under my watch Council has practised responsible financial management by delivering balanced budgets, significantly increasing our asset base, introducing organisational reform and controlling our debt.
I would like to thank all the Councillors for the work that they have done with myself and staff in developing, what I believe is a strong and responsible budget for our residents.
I look forward to working with CEO Mr Rod Ferguson on delivering the 2020/21 Whitsunday Regional Council budget for our community.
Mayor Andrew Willcox
Budget Booklet
To get a full run down of the 2020/21 Budget, please download the budget booklet below.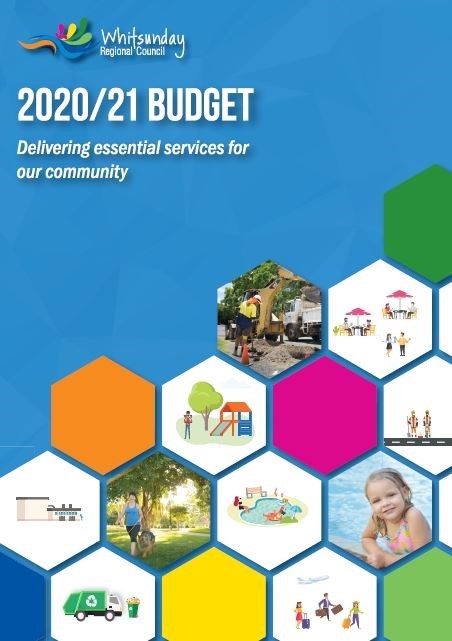 Budget Brochure
To view year's Budget Brochure, please download the brochure below.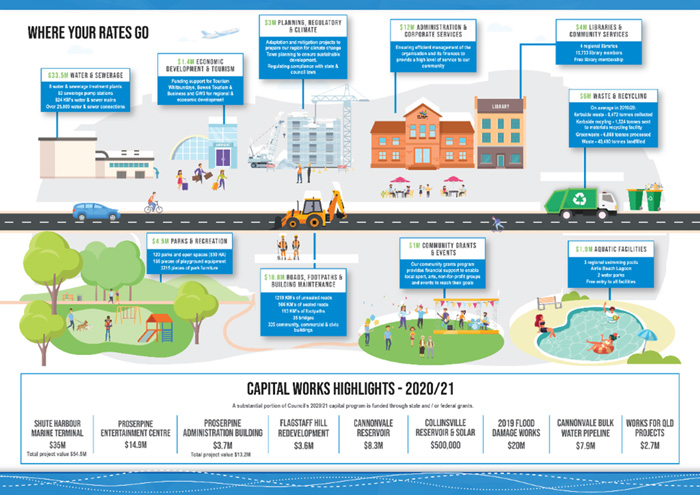 Budget Snapshot
View a snapshot of this year's Budget.
Media Release
Please click on the link below to read the 2020/21 Budget media release:
Media Release - Budget's focus on essential services for community
Financial Statements
Budget for 2020/21 Financial Year
10-year Long Term Financial Forecast
Revenue Statement
The Whitsunday Regional Council (Council) Revenue Statement for the financial year 2020/21 (Financial Year) is prepared in accordance with the Local Government Act 2009 (Qld) (Act) and the Local Government Regulation 2012 (Qld) (Regulation), more specifically Section 104(5)(a)(iv) of the Act and Sections 169 and 172 of the Regulation.
Whitsunday Regional Council Revenue Statement 2020/2021
Budget Video
Budget Documents
| # | Name | Size | File Type | Download |
| --- | --- | --- | --- | --- |